We're in the midst of the NFL season which means waiver claims, lineup setting, and emotional rollercoasters every Sunday. Dynasty degenerates, however, always have a pulse on college ball, eyeing up talent who may land on their rosters in subsequent years. The point of this series will be to highlight a handful of players for you to keep in mind as the season progresses. I'll be doing full prospect profiles in the offseason, so these will simply be bare-bones, "quick hit" pieces of content. With that out of the way, let's start with J.K. Dobbins, Salvon Ahmed, and Rashod Bateman.
J.K. Dobbins, Running back, Ohio State
Most dynasty players will at least recognize Dobbins' name, but I'm putting him on here because of the ridiculous run he's on. After a lackluster season debut against Florida Atlantic, Dobbins was receiving criticism and questions whether or not he was worthy to be mentioned amongst the top running backs for 2020. Since then, Dobbins has put up games of 141, 193, 177, and 172 rushing yards. He does have a game with just 52 yards mixed in there, but Ohio State's starters played just two full quarters because they put up 49 points on Miami (OH). These recent performances have Dobbins second in the nation in rushing yards and the questions have largely disappeared. One thing I would like to see from Dobbins is more involvement in the passing game, as he only has seven catches through six games. 
When it comes to evaluating Dobbins, he has had free room to run, particularly when he gets to the outside on stretch plays. The clip I chose comes from his 2019 game against Nebraska. Here, Dobbins shows good patience as he presses the line of scrimmage which pulls the linebacker inside, finds his cutback lane, plants his foot and drives upfield immediately. He then proceeds to carry two defenders on his back like they're toddlers for an additional five yards.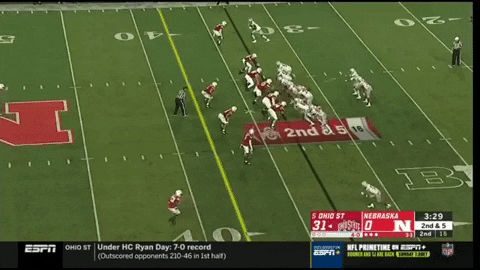 Salvon Ahmed, Running back, University of Washington
Casual dynasty players may not recognize this junior running back, but not out of lack of knowledge. Ahmed spent his first two years in Seattle behind the volume lord Myles Gaskin. Ahmed is an intriguing prospect because of his trump card: speed. Ahmed has now been timed with a 4.32 40-yard dash on two separate occasions. The first was at Nike's camp The Opening before entering college in 2016. More recently, however, Ahmed showed the same speed at Washington's college combine this past spring.
Ahmed isn't getting workhorse touches the way his predecessor Gaskin did, but he does lead the Husky backfield with 67 carries (38% share), as well as leading the group in rushing yards, catches, and receiving yards. In today's NFL, a near-200 pound speedster can provide valuable touches to a team and therefore your dynasty teams. If Ahmed hits the open field, you aren't stopping him. This play against Washington State in 2018 demonstrates the "extra gear" he has. Ahmed steps out of bounds, so the touchdown is nullified, but you can see as the defender nears, his speed is on a different level.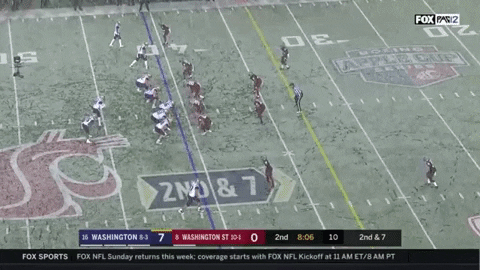 Rashod Bateman, Wide Receiver, Minnesota
While some might view him as the "other" Minnesota receiver, Bateman has been holding his own against the dominator king himself, Tyler Johnson. Entering college as a 4-star recruit, Bateman has five fewer receptions in 2019 compared to Johnson, but 187 more receiving yards, averaging 23.3 yards per catch. He's not eligible until 2021, so he's definitely a name you'll want to tuck away. He won't be under the radar going into next year, but with players like Rondale Moore, Justyn Ross, and Seth Williams potentially leaving for the NFL the same year, he might stay lower on ranking lists. Five games into 2019, Bateman has at least 100 yards in three of those and has scored at least one touchdown to go with them.
I'd like to see Bateman improve his nuance with route running; everything from how he gets off the line of scrimmage to getting in and out of his breaks, but he still has another year with the Gophers and has polish to other parts of his game. Bateman has great hands, can win contested catches, and is creative after the catch. If you're familiar with him, this clip against South Dakota State from opening week probably has something to do with it.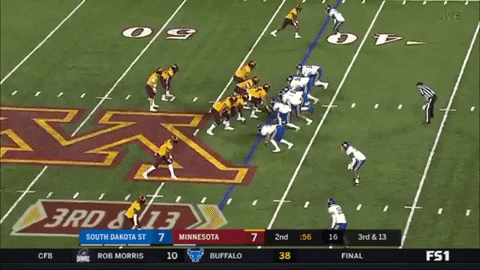 There you have it! Let me know your thoughts on this format as well as any suggestions for players to highlight.