Will the real Miami Dolphins' starting running back please stand up? While enduring disappointment and mediocrity come with the Dolphins, 2019's running game was particularly terrible.  After having 37-year-old quarterback Ryan Fitzpatrick as their leading rusher last season with 243 yards, the Dolphins decided to bring in some necessary reinforcements. During the offseason, the Dolphins signed former Bears and Eagles running back Jordan Howard to a two year, $10 million deal. During the 2020 draft, instead of drafting a running back, the Dolphins traded their fifth-round pick to San Francisco to acquire running back Matt Breida. Unless the Dolphins decide to extend him, he is on the last year of his contract and due $3.3 million. The question remains: Who will be the true starter for the Dolphins in 2020?
Jordan Howard
Prior to his season-ending shoulder injury last year, Howard was a remarkably productive running back on the ground. He posted 1,313 rushing yards in 2016, 1,122 yards in 2017, and 935 yards in 2018. Besides an outlier 50 target season in 2016, however, he has never been known as a pass-catching threat. At six feet, 224 lbs, Howard profiles more as a first and second down back and short-yardage/goal-line option. Many in the fantasy community don't get excited when they hear his name. Still, in his four-year career, he has proven to be a reliable fantasy asset despite his limitations in the passing game. While Howard's 2016 rookie year enthusiasm may have subsided, the 25-year-old former Pro Bowler has a legitimate shot at revitalizing his image and career in Miami.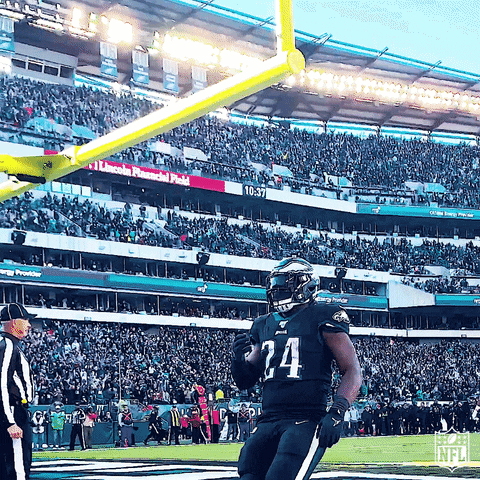 Credit: Giphy.com
Credit: Pro football reference-https://www.pro-football-reference.com/players/H/HowaJo00.htm
Matt Breida
Breida has been considered " injury-prone" after battling several injuries last season, leaving the field and then miraculously returning for several games.  When Breida was on the field, he displayed explosiveness and undeniable breakaway ability. In a crowded 49ers backfield in 2019, Breida managed to log 623 rushing yards and add 120 receiving yards in limited work. At 5'10, 190 lbs, with 4.38 speed, he profiles more as the change of pace/third down back. Breida's 4.94 yards per carry over his three-year career is just another indicator of how much of a game-changer he can be when on the field. Compared to Howard, Breida is the superior pass-catching option.
Credit: Pro football reference-https://www.pro-football-reference.com/players/B/BreiMa00.htm  
As to the question of who the Dolphins should start at running back: expect the Dolphins to utilize a "thunder and lightning" approach to the backfield. Howard will see the bulk of the touches due to his contract, size, and track record of handling a larger workload. Howard had over 250 rushing attempts in his first three years, while Breida has never had over 153 rushing attempts and has been more susceptible to injury. While Howard isn't running away with the job, the split should be about 60/40 in favor of Howard. With the improved offensive line and enhanced quality of running backs, the dynamic duo of Howard/Breida should far surpass the 2019's 1,156 rushing yards. Both are going late enough in dynasty startups for them to be considered a value. According to Dynasty League Football July ADP for a 12 Team PPR League,  Howard is going as RB41, and Breida is RB45.
Whether you're looking for steady consistency from Howard or big-play upside from Breida, you're getting your money's worth late in drafts. Be looking to buy low on Howard and Breida, who should be startable flex plays at least for 2020.
Follow me at tkingmode on Twitter.