Entering the 2019 NFL Draft after a prolific junior season, Darrell Henderson is a polarizing prospect. Both Robby Jefferies and Tom Corson of DHH have him (currently) as their second-ranked rookie running back, while I've seen others with Henderson barely in their top 10 at the position. Are there viable reasons for the disparity? Or are the guys at DHH just coming with #HotTakes? Let's find out.
BACKGROUND
247Sports had Henderson ranked as a three-star recruit and the 159th running back of the 2015 recruiting class, while Rivals listed him as a two-star. After receiving just four offers, Henderson committed to the University of Memphis. During his freshman year, he split time with two other running backs and put up modest stats, as he saw the fewest carries and yards of the three with 87 for 482 but had the most catches and receiving yards - 20 for 237. His sophomore year is where he made his mark on the Tigers' program and put his name on the map nationally. Henderson saw just 130 carries but turned his limited totes into 1154 yards - an absurd 8.9 yards per carry - and kept up his receiving production (24 for 226 yards) while contributing 11 total touchdowns. Not that impressive, you say? How about his junior year: Henderson kept the same 8.9 yard per carry average while seeing over 80 more carries (214) for 1909 yards and found the endzone 22 times as a runner while adding another three through the air on 19 catches for 295 yards. His 8.2 career yards per carry average is good enough to land him at number one all time across the NCAA. There's no debating his production is eye-popping, but how about the tape? I'm glad I asked.
TAPE
The first game I watched of Henderson was against Southern Methodist in 2017; when I saw this clip I immediately had to stop and tweet it out. His burst, acceleration, and ability to get to "another gear" was jaw-dropping. And no, this isn't sped up. Here's the video clip from my Tweet.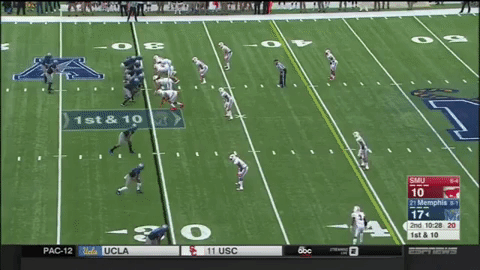 Because of his elite burst and acceleration, Henderson needs just a crack of daylight and he can do what he did to Central Florida in 2018.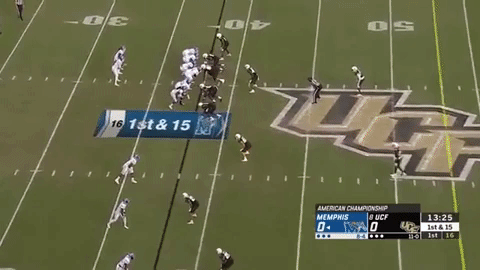 Another standout trait is Henderson's ability to be decisive and hit a crease/hole as soon as he sees it. In this clip against Houston in 2018, Henderson sees a crease open as the tight end (number 5) makes his way to the second level to engage number 20 and immediately attacks it.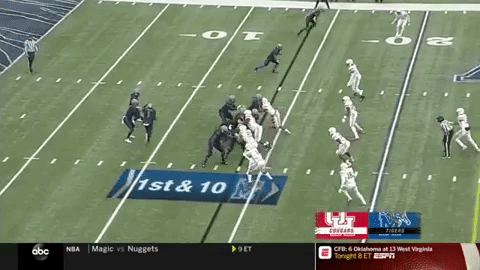 In today's PPR-driven fantasy world, we need our running backs to be at least serviceable receivers, and Henderson has that covered. In another clip from the 2018 AAC championship game against UCF, Henderson makes a nice adjustment to a ball thrown behind him and completes the catch.
In a smaller-framed running back, I want to see flexibility and suddenness in their cuts. At 5'9" and 200 pounds, Henderson changes direction more like Derrick Henry than someone like Devin Singletary. Henderson takes too many steps, is stiff, and upright. On this run below (Houston, 2018), he gives us two examples in the same play of lack of flexibility and wasted steps.
My other main concern with Henderson is he often had wide open lanes to run through and he needed clearly-defined holes to gain his yards. Henderson lacked anticipation and feel for when and where his lanes would open. He needed to see them first; if there was nothing there, he'd just run into the back of his linemen. Here against Navy in 2018, he shows what I'm talking about. There's room to bounce this run outside, but instead he runs directly into a pile of bodies.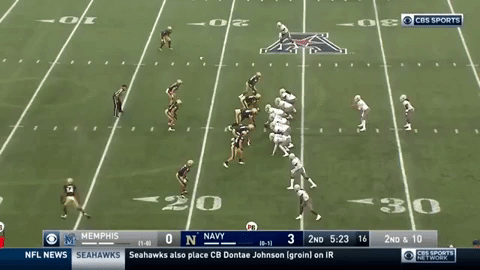 SUMMARY
At the conclusion of my prospect profiles, I'll end up somewhere between the lovers and the haters in my rookie ranking of Darrell Henderson. His burst and acceleration will be a true trump card at the next level, and I love how Memphis deployed him in so many different situations and schemes. Already being situationally versatile is a learned trait putting him ahead of his class, as this can be difficult for those making the jump to the NFL. The majority of Henderson's rushes came with his quarterback in shotgun, but he also took handoffs with the quarterback under center and ran behind a fullback at times. Memphis also used a nice balance of zone and power blocking schemes and had Henderson run both inside and outside. Then, you have Henderson's receiving ability and him being lined up as a slot receiver and out wide.
I have no questions about his ability to get on the field in some capacity, but I do have hesitations with him as a pure running back. We hear from rookies all of the time the biggest adjustment to the NFL game is the speed. If Henderson is unable to improve his mental processing with his running lanes opening and closing more quickly, his lack of efficient acceleration to these holes will make it difficult for him to succeed on the ground. There are enough supporters that he'll end up as a late first to early second round pick in dynasty rookie drafts, but he'll move up my board if he lands on a team relying heavily on outside zone and stretch runs. This will allow him to get moving side to side and hopefully find running lanes before cutting upfield. If he's able to clean up his mental processing and footwork behind the line of scrimmage, Henderson will offer a safe floor and high ceiling for your dynasty teams.