Welp. If you were buying into the Steelers defense being not-so-terrible after their performance against the Eagles (and some were), the Packers put that on hold. Brett Hundley, facing the first-team secondary, was met with little resistance on his way to going 6 of 9 for 77 yards. For those that own a piece of the Steelers passing offense: rejoice. The Steelers have non-divisional games against offenses like Kansas City, Tampa Bay, Atlanta, Carolina, Denver, LA Chargers, New England, and New Orleans. WHEW. Welcome to Shootout City.
Here are my other takeaways from Pittsburgh's second preseason game.

Mason Rudolph is in fact not ready, but will still be on the roster over Joshua Dobbs.

His first pass went for a pick six, yes, but that was indicative of a larger problem. Rudolph rarely came off his first read and continued to stare down his pass catchers. He has the physical tools to be an NFL quarterback, but his mental game needs improving. Rudolph failed to feel pressure coming and needs to be more aware of game management in terms of down and distance. I'm not sure what's causing it, but his play lacks confidence. He's often too shaky in the pocket and double-clutched on several of his throws. His most impressive play of the game was this stiff-arm.

James Conner continues to impress.

Conner added to his offseason résumé with a handful of impressive runs, including this touchdown run. Le'Veon Bell owners need to grab Conner as a handcuff, and Steeler fans should feel confident if Bell misses anytime throughout the season.

James Washington was doing James Washington things.

Washington flashed the playmaking ability that made him the 2017 Fred Biletnikoff Award winner. He caught 5 of his 7 targets for 114 yards and 2 touchdowns. We also got to see the "combat catches" that Coach Tomlin has been talking about all offseason.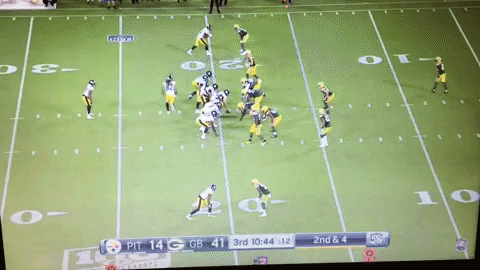 The Steelers really, really can't afford multiple offensive line injuries.

I've said this in other articles, but it continues to stand out every time I watch this team. After losing Chris Hubbard to Cleveland and Jerald Hawkins to injured reserve, their depth is thin. Chukwuma Okorafor is still struggling with his hand usage, and while Matt Feiler has experience at tackle, he's been kicked inside to guard. The Steelers starting offensive line has been relatively healthy the past couple years and has been a huge part of their success.

Jaylen Samuels is progressing.

Samuels looked more comfortable as a pure runner during the second preseason game; running inside and breaking tackles. It's easy to forget that he had more catches (201) than rush attempts (182) at NC State. This observation is basically just for me to write about Samuels. Carry on.
Here's what I'm going to be looking for Saturday the 25th as Marcus Mariota and the Titans come to Heinz Field.
How many series does the first team play?

Roethlisberger and Brown will reportedly play, but how much? I wouldn't be surprised to see them get less than two quarters of play and get-outta-there. As for the defense, they need to be on the field for three quarters.

Does Washington's performance in week two propel him to first team snaps?

Coach Tomlin is generally known for being harder on rookies and making them "earn" their playing time. The rest of the offensive staff have also said that Washington has been doing everything right, and that his time is coming.

Will we see Vance McDonald anytime soon?

McDonald sat out Monday's (8/20) practice again and is reportedly dealing with plantar fasciitis. Jesse James is the unquestioned starter in his place, but the Steelers have been searching for an athletic difference-maker for the past couple years. Ladarius Green was here for a season and the Steelers have recently brought in Bucky Hodges, though he's looked lost and has yet to register a target.

Corey Davis and Taywan Taylor.

I mean, come on. We're all looking at Davis to put together a healthy season, and Taylor is the new hawtness following last week's games.
That'll do it! Keep your eyes peeled for next week's article, as I break down the Week 3 game and look to the final week of the preseason and beyond!