Rodney Anderson will be a divisive prospect heading into both the 2019 NFL Draft and your dynasty rookie drafts due to his injury history, which limited his playing time and therefore production. I'll be touching on those two topics as well as showing what I saw on his game tape. Here is my scouting report on the Oklahoma Sooner running back.
BACKGROUND
Originally committing to Texas A&M, Anderson eventually flipped his commitment to the University of Oklahoma as a four-star recruit (per Rivals and 247Sports). As alluded to, Anderson's injuries severely limited his playing time. He has just 200 total collegiate carries, and 188 of those came during his redshirt sophomore year. In 2015, his freshman year, he suffered a broken leg just two games into the season. The following year as he was preparing to return, he fractured a vertebra in his neck. Two years into his career as a Sooner, he had more injuries (two) than carries (one). Finally healthy in 2017, Anderson put together a season which would put him on the map in a big way (rushing for over 200 yards against Georgia doesn't hurt, either). His redshirt sophomore year, he rushed for 1,161 yards and 13 touchdowns, while adding 17 receptions for an additional 281 yards and 5 more scores. He looked to be picking up right where he left off in 2018, rushing for 100 yards on just FIVE carries in his first game against Florida Atlantic. In Oklahoma's second game that year, it all came to a grinding halt as Anderson tore his ACL. If there's any good news to be found amongst his injuries, the only injury that has DHH's personal injury expert Ethan Turner concerned is the most recent injury - the ACL tear.
TAPE
The first thing I noticed about Anderson is his comfort running between the tackles. You won't see him panic or hesitate with bodies surrounding him. This clip is from the playoff game against Georgia in 2017 and shows exactly what I'm talking about.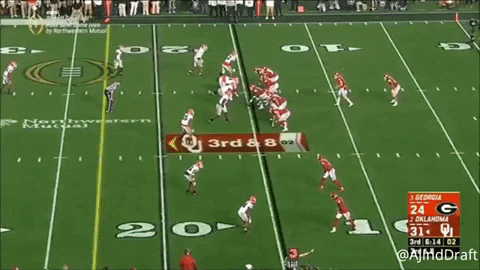 From the same game, Anderson's strength comes from making one cut and getting upfield. Here, he gets to his landmark, plants his foot in the ground and bursts forward. He gets good blocking downfield and is able to take this one 41 yards for a touchdown.
Although he profiles best in a power/gap blocking scheme, he's not just a two-down thumper. Anderson ran routes from the backfield and was also lined up outside as a receiver at times. In another clip from the TCU game, he's lined up against a safety and makes a nice adjustment while not allowing the ball to get into his frame.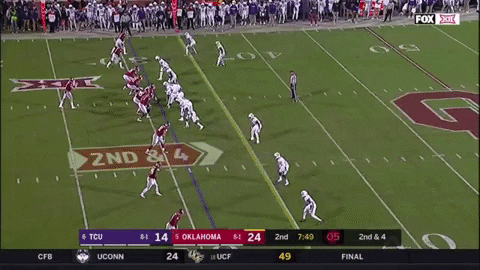 While Anderson is solid at running inside and has the receiving chops to make him a viable three-down option, he's not a fit for every running scheme. Anderson struggles to find cutback lanes due to vision issues. Coupled with his average athleticism, Anderson would not be a fit for teams who mostly run outside zone run plays. I paused this clip against Kansas (2017) to show you the cutback lane which is open to his left. Anderson should be able to see this and make a simple cut to get to it. Instead, he runs into a pile of bodies and ends the run early.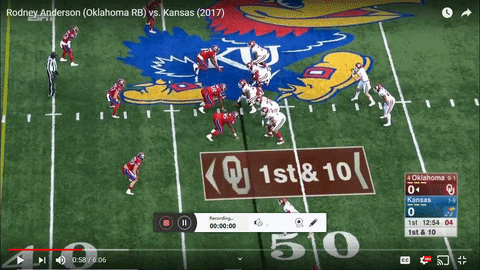 SUMMARY
Anderson is best suited for a gap blocking scheme where he can make one cut and get upfield. While he's deployed best as a power back, he has shown reliable hands and therefore can stay on the field all three downs (although he has to improve his pass protection). Anderson's lack of ability to identify and get to cutback lanes due to his average athleticism should keep him away from outside zone dominant schemes. You also see his vision issues in gap runs, where he'll run directly into the backs of his lineman. Other than his injury history, the questions about Anderson will be centered around the offense he played in and his overall athleticism. Oklahoma produced back-to-back Heisman winning quarterbacks in Lincoln Riley's spread offense, and coupled with good offensive line play, makes life much easier for running backs. It was rare for Anderson to have to create yards for himself, and when presented with the opportunity, he wasn't able to do much. Dynasty owners need to pay attention to not only Anderson's landing spot but the draft capital spent on him, as this will give us a look into how that team feels about his injuries. Based on what we know right now, Anderson will be at best a second round dynasty rookie pick for me.
2019 Rookie Running Back Ranks (with profile breakdowns)
David Montgomery
Rodney Anderson