If I told you that there was a prospect who led the SEC in both yards from scrimmage and touchdowns from scrimmage in 2018, would that interest you? That's exactly what we have in Texas A&M running back Trayveon Williams. In a draft class billed as lacking intriguing running back prospects, he should be receiving more attention. So, what gives? Let's dig into the Aggie and see if his collegiate success can translate to the NFL.
BACKGROUND
Entering college in 2016 as a four-star recruit and the eighth-ranked all-purpose back by both Rivals and 247Sports, Williams immediately contributed to the Aggies' offense. In five of his first six games as a true freshman, Williams had at least 94 rushing yards, including a 217-yard effort against Tennessee. After eclipsing 1,000 rushing yards his freshman year and chipping in 91 yards on 19 catches, his productivity saw a dip as a sophomore with just 798 yards. His receiving stats were more impressive though, as only had one more catch (20) but put up over 100 more yards (192). He totally redeemed himself with his junior campaign, going for 1,760 yards on the ground and another 278 receiving yards on 27 catches, totaling 19 touchdowns. Seems pretty legit to me so far.
TAPE
So Williams was a highly-ranked recruit and produced in what most consider the Holy Grail of collegiate conferences. Maybe something shows up in his tape which has kept him from being touted more often.
One of Williams' best attributes is his patience. You'll routinely see him waiting for holes to develop or for a crease to open and then he'll immediately attack the space with decisive running. In his game against LSU this year, Williams shows exactly what I'm talking about.
Williams waits for the opening and hits it. He also does a good job of pressing the line to the right of the center, getting the weakside linebacker to commit. This gives him one less defender to deal with once he cuts to the left and picks up the first down on 2nd and 6.
The other way Williams succeeds is with his vision. His eyes are always up as he climbs the different levels of the field, allowing him to gain extra yards.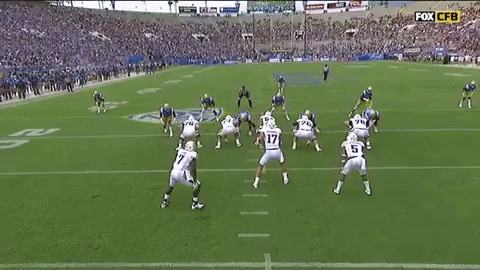 He shows his patience here again as he waits for both the right guard and right tackle to pull through. Once he's past the defensive line he could make the cut to the outside immediately, but waits as he sees both the corner and safety coming down to the make the tackle. He makes one quick cut to the outside and takes off for a 72-yard run.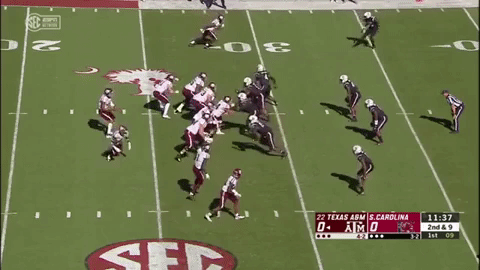 With 66 catches through his three years, Williams is a capable pass catcher. This isn't an Odell Beckham highlight-worthy catch, but Williams does a good job catching this ball with his hands and not letting it get into his body. He also makes a nice adjustment and smooth transition to get upfield quickly.
I wish Williams was more agile and explosive, especially in reference to his size (listed at 5'9", 200 pounds). In another clip from the 2018 LSU game, the Texas A&M prospect shows "enough" agility to string together these two cuts back-to-back, but I'm still left wanting more.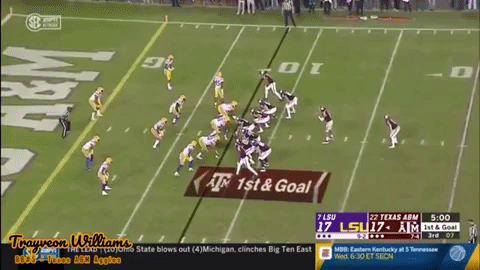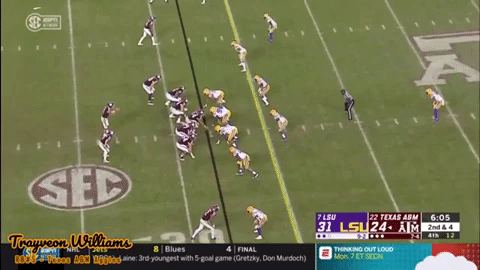 In the clip above, when Williams makes his cut upfield, I'd really like to see him drop his hips so he's able to use what explosive ability he does have to make a cleaner, quicker cut. Again, being that he's a 200 lb. back, we want to see more explosive traits and better change of direction skills.
SUMMARY
Trayveon Williams won at the collegiate level with patience, vision, and decisive running. This allows him to let openings develop in front of him, see the hole, and hit it. He was the "anti-Saquon Barkley" in that he almost always ran within structure, never trying to bounce runs outside or dance behind the line; something that some NFL teams will love. Williams got what was blocked for him but had trouble creating for himself on a consistent basis. Although he had success running between the tackles at Texas A&M, he lacks the play strength to be able to break tackles and often goes down on first contact. He possesses adequate agility and explosive traits that can be maximized if he lands on a team with an offensive line that can open holes for him consistently. If the Houston Texans are able to get some semblance of an offensive line between free agency and the draft, that would be my ideal landing spot. Lamar Miller only has one year left on his contract and could actually be cut for only $1 million against the cap and the Texans would save over $6 million, per Spotrac. Being able to run RPOs and zone-reads with Deshaun Watson would not only provide him a level of scheme familiarity but would take some pressure off him due to the presence of Watson.