There is only one running back in the 2019 NFL Draft who checks all of the boxes: vision, footwork, ability to create own yards, contact balance, receiving ability, size, and production. David Montgomery is that dude and is my number one running back in this class.
BACKGROUND
Montgomery was not heavily recruited entering college in 2016. While 247Sports had him ranked as a three-star recruit, he was listed as just the 74th running back and 55th prospect in the state of Ohio. Rivals, on the other hand, had no national or state ranking, and had Montgomery as a lowly two-star. Fast-forward three years and the narrative around Montgomery has completely changed - he's regarded as a key piece in turning around the Iowa State football program and its culture, while both fantasy and NFL draft analysts widely view him as a top running back prospect.
As a freshman, Montgomery handled just over 26% of the Iowa State's running back carries but still led the team in rush yards. The Cyclones' rushing share was never close again (78% in 2017 and 75% in 2018), as he became their offensive centerpiece for the next two years. He ran for over 1,100 yards as a sophomore and 1,200 yards as a junior, and had over double digit rushing touchdowns both of those years. With 71 career receptions, Montgomery also has a solid receiving profile to go along with his rushing ability, making him an ideal modern NFL workhorse.


TAPE
The first thing which stands out - as well as being his best trait - when watching Montgomery's tape is his ability to create his own yardage in a multitude of ways. He can do it with strength, contact balance, and agility. In this first clip from 2017 against Iowa, Montgomery is lined up outside. After securing the catch, he sheds a tackle, throws a defender to the ground, breaks two more tackles, and falls forward for extra yards.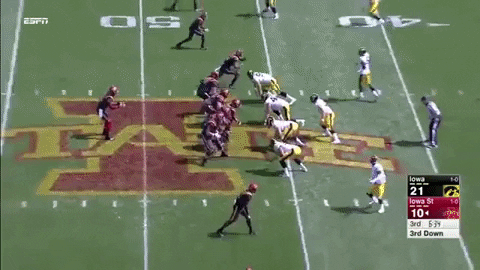 In his last collegiate game in the Alamo Bowl against Washington State, Montgomery showcased his elusiveness, agility and ability to string together moves. After receiving the handoff, he's met immediately in the backfield (which is a common theme given the Cyclone's subpar offensive line). He forces a missed tackle with a spin move, then is able to make two defenders miss on the same juke step. To top the run off, he then lowers his shoulder pads, keeps his legs moving and grinds out additional yards. What should have been a three-yard loss turns into an eight-yard gain.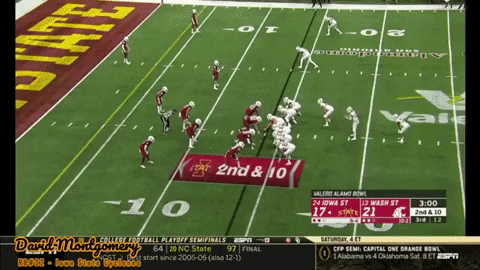 For a bigger back (5'10", 222 pounds) Montgomery displays good footwork as he uses his vision to find where his next move will be, then utilizes his light feet to get there. Here against West Virginia (2018), we can see Montgomery's feet never stop moving and his eyes always upfield as he moves his way through the defense.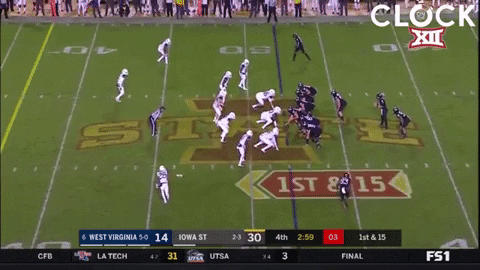 Montgomery had 71 catches during his time at Iowa State, and this play from 2017 against Iowa is one of my favorites. Montgomery sells the five-yard sit route before quickly snapping his route across the middle of the field. He then shows how dynamic he can be in the open field with yards after the catch.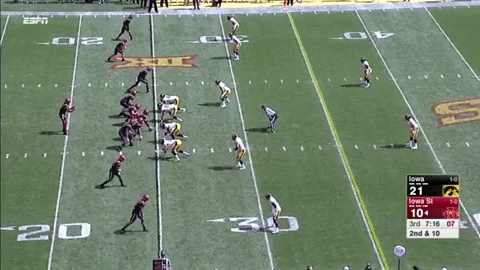 Even some of Montgomery's "non-highlight reel" runs are special, as he's able to make something out of nothing - a trait which will certainly translate to the next level. Montgomery (again) sheds a tackle attempt behind the line of scrimmage, bounces to the outside, stiff-arms a second defender, jumps over another, and is able to fall forward for positive yards. The dude just never stops.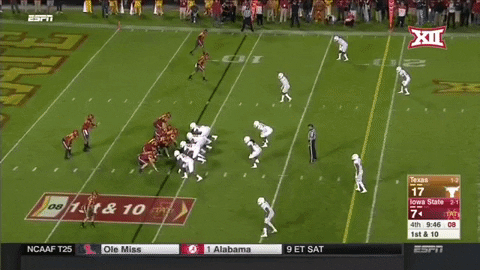 SUMMARY
David Montgomery has no legitimate holes to his game and there is nothing he can't do. Inside runs? Check. Outside runs? Check. Run defenders over? Check. Elude defenders with spin moves, jump cuts, juke steps, and hurdles? Check. Break tackles? Check. (Montgomery actually holds the record for most missed tackles forced in a season, per PFF.) He may lack elite athleticism, but his vision, footwork, and instincts as a runner more than make up for it. The entire 2019 NFL Draft class is landing spot dependent, but Montgomery may very well end up my top overall rookie.
2019 Rookie Running Back Ranks (with profile breakdowns)