The 2019 wide receiver class is difficult to pin down and individual ranks reflect this. There isn't a consensus number one prospect because each receiver has their own warts. Those blemishes run the gamut - route running, separation, down-field speed, drops. Could I interest you in a prospect who is extremely solid in every important receiver trait? Someone who may never be an alpha on their team, but a safe number two option? Let me introduce you to Stanley Morgan Jr., the senior wide receiver from Nebraska.
BACKGROUND
Morgan has an interesting recruiting profile due to the differences between the two sites I reference, Rivals and 247Sports. The latter had Morgan as a three-star recruit and was outside of their top 50 wide receiver prospects. Rivals, however, listed him as a four-star talent and was placed inside their top 30. Regardless of the ranking, Morgan received 15 scholarship offers from programs such as Clemson, Florida, Georgia, and Ohio State before ultimately committing to Nebraska.
Although he received a lot of preseason hype leading into his freshman year with the Cornhuskers, his first two seasons were relatively quiet from a production standpoint. His junior year, however, he amassed more yards than his first two seasons combined and doubled his touchdowns during the same span. In Morgan's senior season he continued where he left off for Nebraska.
*Courtesy College Football Reference
TAPE
While Morgan doesn't have an elite trait to his game, he does everything incredibly well, which is something this rookie receiving class lacks. Morgan can win at every level of the field with a variety of routes and can successfully run routes both outside and inside. Of the receivers at the 2019 NFL Combine, Morgan tested well enough to land him in the top-ten SPARQ scores, per 3 Sigma Athlete, and - more importantly - his tested athleticism shows up on film.
In this clip from 2017 against Penn State, Morgan bursts off the line and runs directly at the corner playing off coverage. Morgan does a good job of getting on the defender's toes and has no wasted movement as he simply blows by him. He's not known for being a "burner" but has more than enough speed to win downfield. Morgan also uses a subtle arm swipe to prevent the corner from reaching out and holding to slow him down.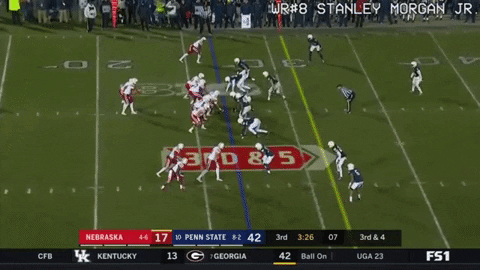 Speaking of winning downfield, here's another clip from the same game. This time, Morgan is running his route from the inside. He uses a slight head movement during his stem as if he's going to break to the outside for a deep corner route. This doesn't seem like much, but it's enough to keep the defensive back to the outside and creates more separation. Morgan shows refinement and nuance in his routes.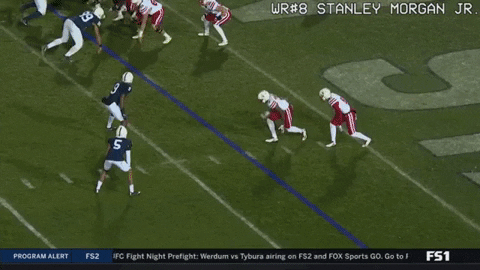 Morgan is capable of more than winning downfield against off coverage. In 2017 against Ohio State, he's facing press coverage. Morgan hesitates at the line of scrimmage for a brief second to get the corner to start dropping into coverage, then quickly accelerates to full speed and runs his route to the corner's blind spot. The defender actually does a nice job of sticking with Morgan throughout his stem until Morgan instantly decelerates, drops his hips, and snaps back to the quarterback. This creates nearly two yards of separation at the top of Morgan's route. He then does a good job of working back to the quarterback to maintain the separation and complete the catch.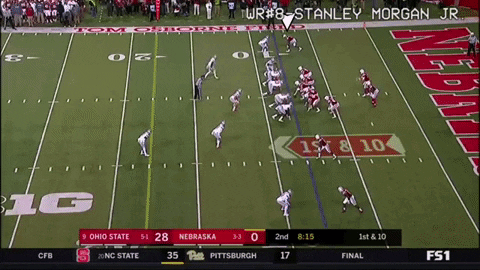 Another refinement Morgan shows in his route running is his ability to vary his tempo. Against Colorado in 2018 he runs a simple five-yard out. Watch the difference before his break towards the sideline and after: Morgan runs his stem at partial speed and once he starts his route break, he plants his foot and explodes at full speed. This decreases the time the corner has to react and keeps Morgan wide open.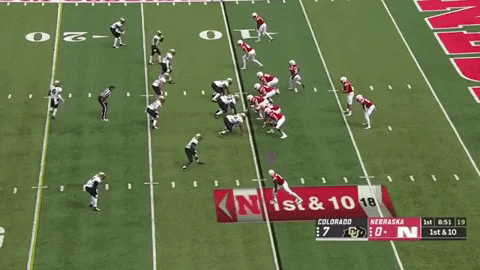 When Morgan is unable to create separation at the catch point, he has no trouble in contested catches due to his strong hands and comfortability with physicality. Against Michigan in 2018, Morgan is forced into a contested catch due to an underthrown ball. He slows down just enough and times his jump perfectly. The corner is able to recover and get into decent position to break the pass up, but Morgan displays his strong hands and physicality and is able to complete the catch.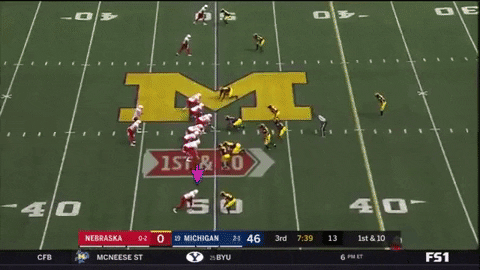 One more clip from the game against Penn State from 2017. Even if Morgan has trouble consistently separating at the next level, he'll still be able to produce for whatever team drafts him. While Morgan is running a fade route here, the corner is draped all over him, trying to pull at his arm to prevent the touchdown. Morgan swats at him like a fly, undeterred, and makes a one-handed touchdown catch.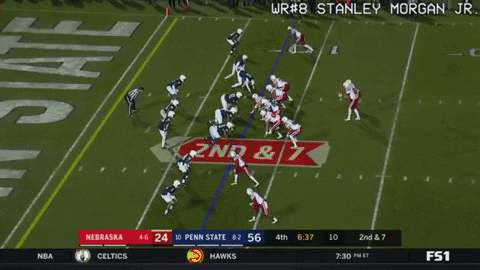 It isn't all sunshine and rainbows with Morgan, however. One of the things I wish he was better with is yards after the catch. He has the athleticism and physicality in other areas of his game, but not here. Once the ball is in his hands, you rarely see him running away from defenders or breaking tackles. Against Michigan State in 2018, this play shows my concern. Morgan has enough room after securing the catch to either make a move physically or athletically, but is unable to do either. Instead, the defensive back lunges for his legs and is able to bring him down.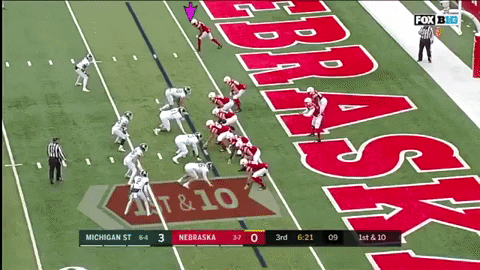 The other concern I have with Morgan is his struggle against top corners. From the same game against Michigan State, Morgan saw a lot of the Spartan's top corner, Justin Layne. Layne is the fifth-ranked cornerback in this year's draft by The Draft Network. Layne shadowed Morgan for most of the game and Morgan was held in check. Typically, if a corner is able to keep up with him athletically, Morgan can use his physicality and route breaks to overcome that. Against Layne, he couldn't win with either. This particular play shows both issues. Morgan attempts to run past Layne for a go route, but Layne stays with him step for step. You can also see Morgan try to use his strength by using his arms and hands to create separation, and Layne stays glued to him still. This play also demonstrates a corresponding issue when Morgan saw better corners: Nebraska's offensive line was routinely overwhelmed and their starting quarterback, Adrian Martinez, was a true freshman who was still adjusting to college play.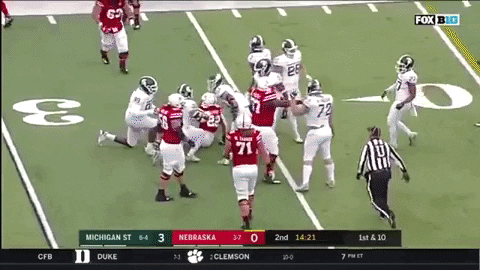 SUMMARY
Morgan has the ability to become a rock-solid number two for an NFL team and a steady flex option for your dynasty squads. While he lacks a standout, elite-level trait, there isn't anything he's unable to do. He has the ability to win at every level of the field, can beat press coverage, win contested catches, and has a varied route tree. For all of the positives I've been spewing throughout this article, two negatives did stick out to me while watching Morgan over several games. Despite his plus athleticism and physicality, those traits never materialized in yards after the catch. Morgan also struggled against higher-tier corners. While some of his struggles had to do with the offense as a whole, it still was a struggle. Morgan likely won't be drafted until day three of the NFL Draft, so he'll be a later dynasty rookie pick. According to DLF April rookie mock draft data, Morgan is barely being drafted in four-round rookie drafts, as he ranks 48th in ADP. If he stays in that range, I'll have Morgan on every one of my dynasty teams.