It happens every year. The NFL Combine comes and goes and in its wake leaves us with a handful of "Who the hell is that guy?" prospects. This year, Alex Barnes was that guy for me. Whenever you end up as the second-ranked composite score running back, you're going to catch people's attention.
BACKGROUND
Barnes entered the 2015 recruiting cycle as a three-star prospect according to both Rivals and 247Sports, who ranked him eighth and seventh across the state of Kansas, respectively. As a redshirt freshman, Barnes had modest production - 442 rushing yards on 56 carries - but the coaching staff saw enough to propel him to a starting role the following year. In 2017, Barnes started all 13 games and toted the rock nearly 100 more times than the next closest running back. He continued that momentum into 2018, where he dominated running back touches (82%) and went over the 1,000-yard rushing mark, going for 1,355 yards on the ground and adding an additional 196 yards on 20 receptions. His production his final year was solid, but not what put him on the dynasty radar. Let's look at what did do it - his combine performance.
A couple of notes on Barnes' spider graph. While his 40-yard dash isn't great at 4.59 seconds, it's still a solid time when it's size adjusted. Although his 3-cone time is "only" in the 66th percentile, being under 7 seconds at 226 pounds is nothing to look past.
TAPE
Barnes' testing numbers at the NFL combine prove he's a really good athlete. The most important thing, however, is if those elite results show up on his game tape. Warning: If you're a Barnes truther, you might want to stop reading here.
Simply put, Barnes' game tape doesn't match up with his combine results. Let's take a look at a play from Mississippi State in 2018. At the beginning of the play, Barnes actually does a good job of getting the defensive back to commit to the edge and cuts back inside. After he gets past the first level, he has nothing but open space in front of him. If he was able to translate his workout measurements to his play, we would see some kind of cut and additional yards gained. Instead, Barnes runs directly into the safety and gets tackled.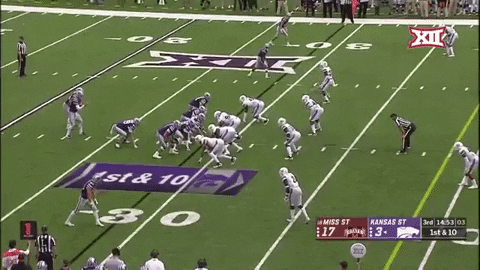 Against Texas in 2018 we can see how slow Barnes processes plays, not allowing him to utilize the athleticism he displayed at the combine. I paused the video during this clip to show how wide open the right side of the field is. Yes, the corner is there, but if Barnes drops his hips and plants his feet, he should be able to get enough width on a jump cut (given his combine numbers) to clear the end and burst into the end zone. Instead, he combines the Irish Jig and hopscotch on his way to being stopped before the goal line.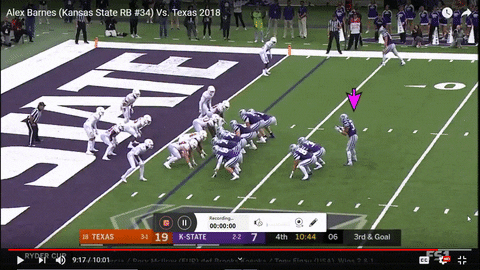 In his 2018 game against Iowa State, Barnes is again slow to make his read and actually completely stops before making his cut. He picks up a first down in spite of this, but this won't happen at the next level.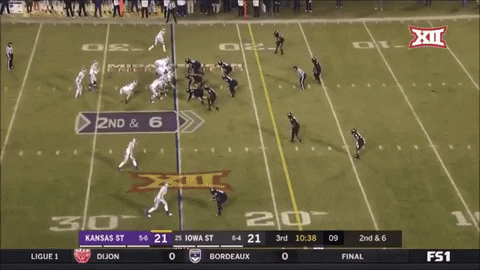 These kinds of plays are littered throughout his game tape, but I don't want to make an article filled with negatives. The easiest thing to do when scouting a player is to talk about everything they can't do. What about positives? What can Barnes do successfully at the next level?
Barnes will get all of the yards that the offensive line gives him. He also has the ability to make defenders miss if they overpursue, which is what happened during this play against Oklahoma State in 2018. He has a clear lane to run through, makes an overly-aggressive defender miss, and rattles off a 30-yard rush.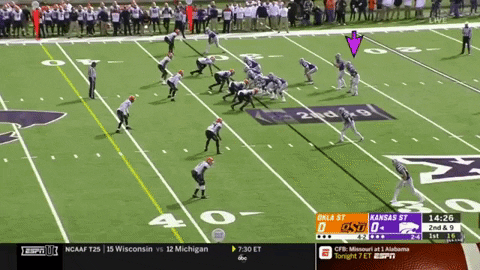 From the same game, Barnes makes an impressive one-handed catch and is able to hold on with the safety coming in like a missile. He does show good hands for his size and can be utilized in the passing game.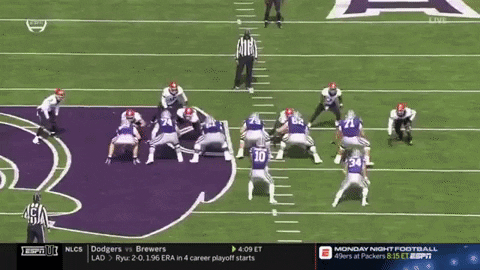 SUMMARY
The best word I can use to describe Alex Barnes is inconsistent. There are inconsistencies between his combine results and his game tape, and then inconsistencies within his tape. Barnes shows flashes of being able to successfully use vision, read defenders, and make cuts to get extra yards. Then, on the very next play, he runs into the backs of his offensive linemen or directly into the arms of a waiting defender. The most worrisome trait that Barnes exhibits is his slow mental processing. Even if his combine results matched up with his film, not being able to process what the offensive line is doing and how defenders are reacting is difficult to overcome in the NFL where everything is happening even faster. In order for Barnes to have success at the next level, he'll need a strong offensive line to open holes for him because he lacks the ability to create on his own. Is it possible for his processing to improve and his athleticism finally come through? Of course, but that's not a bet I'm willing to make based on what I've seen. Barnes will be a day three selection in the 2019 NFL Draft and is best left for the later rounds of your dynasty rookie drafts.
2019 Rookie Running Back Ranks (with profile breakdowns)
David Montgomery
Alex Barnes
These ranks only reflect the players that I've watched so far. As I continue to add profiles, I'll update these rankings with each new article. Let me know what you think by hitting me up on Twitter or dropping a comment below!