Although I'm early into the 2019 NFL draft class, I already know that Devin Singletary will be one of my favorite prospects. Don't let the small school, small frame fool you - Singletary has a big production profile and traits that will translate to the next level.
BACKGROUND
A relatively unheralded recruit coming out of high school, Singletary was ranked as a two-star recruit by both Rivals and 247Sports. The latter had him ranked as the 133rd running back of the 2016 recruiting class, while Rivals doesn't even have a ranking for him! Singletary originally committed to the University of Illinois before flipping to Florida Atlantic University on National Signing Day, allowing him to be just a few miles away from his hometown of Delray Beach, Florida. The rest, as they say, is history. Singletary immediately produced for the Owls his freshman year, rushing for 1,021 yards on just 152 carries with 12 touchdowns. His sophomore campaign is what really put him on the map, rushing for 1,918 yards (4th in NCAA) and finding the end zone 32 times (1st in NCAA). His junior year saw a decline in stats but he remained super productive, putting up over 1,300 rushing yards and 22 rushing touchdowns (2nd in NCAA). As a receiver, Singletary's freshman year showed a lot of promise as he pulled in 26 catches for 163 yards. For the next two years, however, his involvement in the passing game declined, catching just 19 and 6 passes his sophomore and junior year, respectively. What allowed him to have the success he had on the ground? Are his declining receptions something to be worried about? Let's check the tape.
TAPE
There's no shortage of highlight reel-worthy runs in Devin Singletary's tape, but his best trait by far is his contact balance and the ability to absorb and shed defenders. Per PFF, Singletary had 1,027 yards rushing after contact in 2018. That's absurd. In the clip below (Louisiana Tech, 2018) Singletary is wrapped up three separate times by multiple defenders and continues to gain yards after each attempt.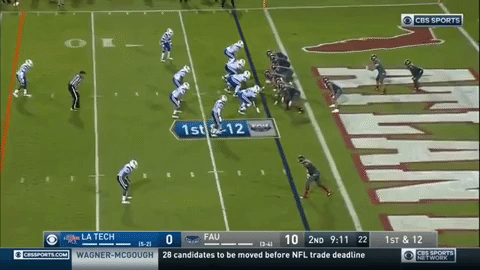 In another clip showcasing his elite balance, Singletary makes two jump cuts to find a running lane, gets tripped up and is able to put his hand down while falling down backwards to get another yard out of this run.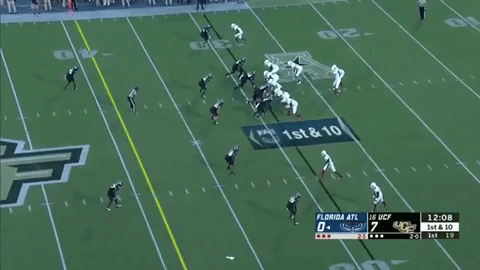 Singletary has a smaller frame at 5'9" and 200 pounds, but he's extremely good at positioning his body to avoid taking bigger, punishing hits. In his game against Middle Tennessee State in 2017, he should be blown up in the backfield by the linebacker coming untouched through the offensive line. Instead, Singletary just simply turns his hips and shoulders to avoid a direct hit and is able to shed the tackle completely.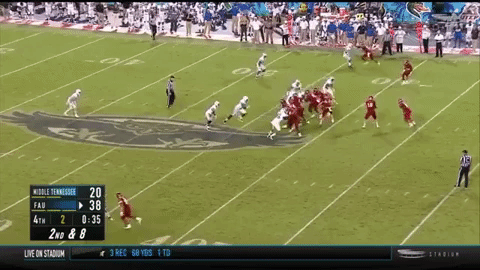 Earlier I referenced Singletary's receiving stats dropping each season and I can't find a reason for it other than he simply saw less usage once Lane Kiffin took over in 2017. When Kiffin has been either the head coach or sole offensive coordinator, the most catches a running back has had in his offense has been 29. Kenyan Drake holds that claim to fame for the 2015 Alabama Crimson Tide. As for Singletary, this clip against Oklahoma in 2018 shows the ability to run an actual route (not just dump offs/screens) and natural catching ability. I love how he snaps off his route and catches the ball with his hands out in front of his body.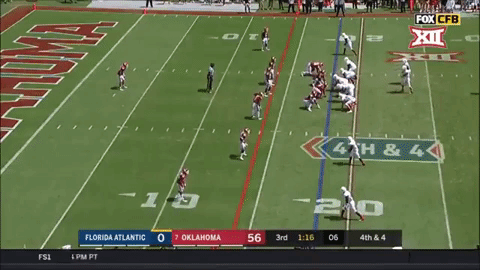 In this second clip showcasing his receiving ability, Singletary tracks the ball over his shoulder and walks in for the touchdown. Yes, he's wide open on a trick play, but you still don't typically expect running backs to make it look this smooth. Oddly enough, this touchdown catch was his only one while at FAU. I'm not worried about him only having six catches his final collegiate year, as it should be a much larger part of his game at the next level.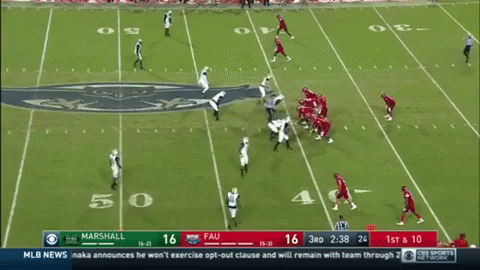 Something which normally worries me with smaller-framed running backs is their ability to run inside, especially once making the move to the NFL. In another clip from his game against Oklahoma, Singletary displays nice footwork, patience, and vision as he finds a crease inside and bursts upfield to convert on third down. These kinds of runs are littered in his tape and have me confident he'll have success in the NFL.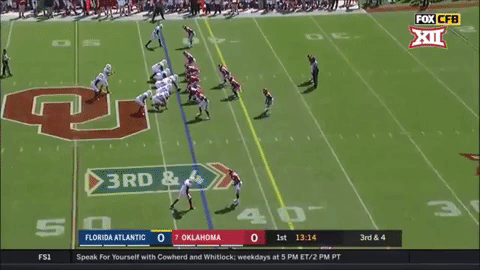 SUMMARY
Singletary wins with incredible contact balance, footwork, agility, and elusiveness. Although his receiving stats decreased each year after his freshman season, he's shown to be a natural hands-catcher and his agility in space will allow him to maximize his touches. I typically prefer running backs with larger frames to help withstand the beating they inevitably take, but even at 5'9", 200 pounds, Singletary is very good at positioning his body to avoid direct blows. The production that he put up at FAU is eye-popping, but he's clearly playing against lower competition and was in a scheme favorable for his video-game-type numbers; this has to be taken into consideration when projecting forward. All in all, I believe Singletary's traits will translate to the next level. He would have the most success in a heavy outside zone scheme where he can use his vision and agility to find running lanes and his contact balance to break tackles. My hope is that Singletary will be an early second-round pick in dynasty rookie drafts, but I wouldn't be surprised in the least to see him sneak into the end of the first round if he has a solid combine and favorable landing spot.